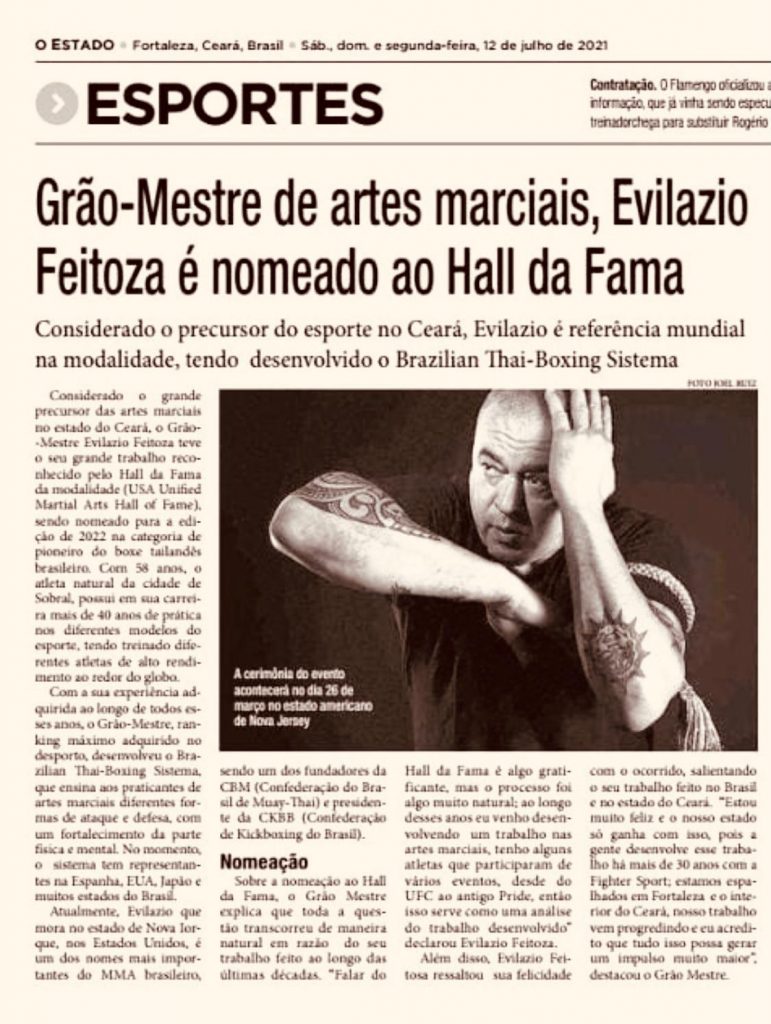 Considered the great precursor of martial arts in the state of Ceará, Grand Master Evilazio Feitoza had his great work recognized by the Hall of Fame of the modality (USA Unified Martial Arts Hall of Fame), being nominated for the 2022 edition in the category of pioneer of Brazilian Thai boxing. Aged 58, the athlete from the city of Sobral, has over 40 years of practice in different models of the sport in his career, having trained different high performance athletes around the globe.
With his experience acquired over all these years, the Grand Master, the highest ranking acquired in the sport, developed the Brazilian Thai-Boxing System, which teaches martial arts practitioners different forms of attack and defense, with a strengthening of the part physical and mental. At the moment, the system has representatives in Spain, USA, Japan and many states in Brazil.
Currently, Evilazio, who lives in the state of New York, in the United States, is one of the most important names in Brazilian MMA, being one of the founders of the CBM (Confederação do Brasil de Muay-Thai) and president of the CKBB (Confederação de Kickboxing do Brasil) ).
Appointment
Regarding the nomination to the Hall of Fame, the Grand Master explains that the whole matter took place naturally due to his work done over the last few decades. "Talking about the Hall of Fame is gratifying, but the process was very natural; over these years I've been developing a work in martial arts, I have some athletes who participated in various events, from the UFC to the old Pride, so this serves as an analysis of the work developed" declared Evilazio Feitoza.
In addition, Evilazio Feitosa highlighted his happiness with what happened, highlighting his work done in Brazil and in the state of Ceará. "I'm very happy and our state only wins with this, because we've been developing this work for over 30 years with Fighter Sport; we are spread out in Fortaleza and the interior of Ceará, our work is progressing and I believe that all of this can generate a much greater impulse", highlighted the Grand Master.