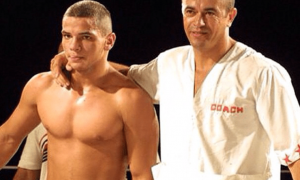 Evilazio Feitoza is considered one of the most important names of the state of Ceará and also of all Brazil, when speaking in MMA. Born in the interior of Sobral, and having lived his childhood in the mountains of Ceará State of Tianguá, Evilázio moved from Ceará to the state of São Paulo, with the intention of continuing his training of Shotokan Karate and began his practice of Kung- Do-Te, Full Contact (Kickboxing version) and Total Portuguese Contact. It was at this time that, besides assimilating the knowledge of the Portuguese master Adriano Silva, Ceará started to train Jiu-jitsu with the teacher and friend, now deceased, Marcelo Behring, besides perfecting his techniques with the renowned world boxing champion, Miguel de Oliveira. Black belt 8th Dan of Kickboxing, Evilázio is six times Brazilian champion (1983-1987) and sports a cartel of 37 fights, 35 wins and more than 40 years involved in martial arts and contact sports. A skilled coach, Feitoza led the Maranhão state fighter, James Adler, to the North-East Championship of Muay Thai in an event promoted by Rodrigo Coutinho in Recife-PE in 1989, and also to victory over the legendary fighter Rei Zulu in two fights of Vale Tudo already in the decade of 1990.
Back in Ceará, Evilázio Feitoza achieved even more success by participating in events such as coaching throughout Brazil and other countries such as the ISKA World Boxing Title (Benidorm / Spain – 1995), Full Contact World Title (Tenerife / Spain – 1995), Full Contact World Title WKA (South Africa – 1996) and World Title of MMA (Florida / USA / 2003). Evilázio has already revealed several high-performance athletes, among them Thiago "Pitbull" Alves, (currently UFC fighter), Paulo Guerreiro, Andrezinho Nogueira, in addition to already working with names like Jorge Patino "Macaco", The Pedro, James Adler, Ricardo Freire, Gabriel Napão and Assuério Silva, among others. Currently, Evilázio maintains representatives in the states of Ceará (in Fortaleza and the Cariri region), Paraíba and São Paulo, since he moved to the United States where he set up a well-structured gym in New York (Long Island, Suffolk County) and intends to reveal new talents for the sport he loves so much. Evilázio maintains a consolidated career as a competitor, master, coach, lecturer, consultant and promoter, since he has also always worked with the promotion of events of contact struggles. His name has already become a successful reference in Brazil and other countries in South America, Europe, the Middle East and Asia, where he is always asked for his credentials. He also promises soon the next edition of Champions Night Fight, MMA show and Muay Thai that promoted in Brazil and that will now also be held in the land of Uncle Sam. "We are already working on the legal procedures to carry out the event. The Champions Night Fight will once again be billed as a great MMA show, and will no doubt bring MMA from the Long Island region of the US to another level of competition of its kind. Our mission has always been to make history, and now all over the world! "Concluded Evilázio.
* Text from the collaborator Oriosvaldo Costa
_ Photo: Evilázio Feitoza as coach of Thiago "Pitbull" Alves, his most famous pupil and consecrated after dethroning Matt Hughes in the UFC, where he remains until today (personal archive Evilázio Feitoza).