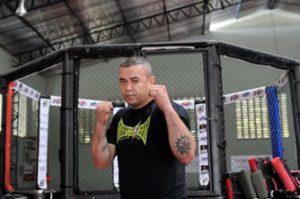 Evilázio Feitoza is Grand Master of Muay Thai, the maximum graduation of the modality. And to achieve this, it took more than 40 years of practice without stopping, with the goal of contributing also to the development of sports in Brazil. Evilázio travels the world to divulge the modality and when he is in the academy, or in any country or city that visits, he makes a point of guiding each practitioner, be he professional or beginner. He also serves as a consultant, speaker, coach and sports promoter in other countries in South America and across Europe.
At age 54, the Grand Master is considered the forerunner of martial arts in Ceará, he is a world reference and holder of one of the highest graduations of the modality sporting the 15th Khan (Grand Master) of muay thai, black belt 8º Dan of kickboxing , 5th Dan in full contact and, as a competitor, was five times Brazilian kickboxing champion (1983 to 1987). Evilázio affirms that his mission is to reveal new talents for the sport that loves so much, present also in the USA, he maintains representatives in Brazil, distributed in the states of Ceará (in Fortaleza and in the region of Cariri), Paraíba and São Paulo.
Intensely focused and dedicated to his passion for martial arts, Evilazio is considered by some of his pupils as a true father. Felipe Minitouro made it clear in an interview in the last BKF – Brazilian King Fighter – an MMA competition, after winning a fight. Friend of all, it is not uncommon to surprise him by teaching his athletes far more than strokes and techniques: he teaches them to seek strength in God, in their loved ones, and to strengthen themselves with their defeats by saying: "Catching is a part the learning of life. When you are winning, you do not think much. It's only when you lose that you change tactics and force yourself to adapt. " With a simple philosophy of life that has always worked – respecting life, people and being recognized for a job well done – he lavishes health, makes many people jealous and still says he will live until he is 111, which is common in your family. And he recognizes: "God is very generous to me."
History
Born in Sobral, 230 km from Fortaleza, Evilazio Feitoza began training Shotokan Karate at the age of 7 and at the age of 14 moved to the city of São Paulo, where he began his practice of Kung-Do-Te, Full Contact with the Portuguese master based in Brazil, Adriano Silva, and also perfected his techniques with world boxing champion Miguel de Oliveira and Jiu Jitsu with the renowned black belt Marcelo Behring. When Evilázio returns to the city of Fortaleza after years of battles in São Paulo begins to build effectively his legacy, acting in great academies, clubs and colleges in Fortaleza – until in 1998 inaugurates in Fighter Sport Academy being a reference gym in the fitness segment and fights – revealing for 17 years great athletes and teachers that today continue work throughout the world.
In parallel to that time, Feitoza also acted as promoter of major events such as: Kick Boxing Ceará Championship, Kick Boxing North-Northeast Championship, BadBoy Rider Fight, Vale Tudo Ceará and Thai Boxing, Super Badboy Fight, Champions Night (17 Editions), Hunter Cup, MuayThai Cearense Championship, Jungle Fight Qualifying, New Talent Fight, among other events.
In addition to these events in Ceará, the Grand Master had promoted several events in São Paulo, such as: Brazilian Kick Boxing Championship 1993 (São Paulo), Kick Boxing Intersport Championship 1993 (São Paulo), Intercontinental Kick Boxing Championship 1994 (São Paulo ), South American Championship of Kick Boxing 1995 (São Paulo), Open Brasil of Kick Boxing 1995 (São Paulo).
It is worth mentioning that in the last event we have athletes today renowned as: Wanderley Silva, José Pelé Landi, Rafael Cordeiro.
Titles and References
As competitor Evilázio maintain an enviable curriculum: Five times Brazilian champion (1983-1987) and his cartel has a record of 37 fights, 35 wins. In 1987 Evilazio returns to Ceará where he implants the contact fight in the state (Muay Thai, Kick Boxing, Vale Tudo).
In your resume:
Former President of the Brazilian Confederation of MuayThai (CBM)
President of the Brazilian Confederation of Kickboxing (CKBB)
President of the Pugilism Federation of Ceará (FCP)
President of the Ceará State of MuayThai (FCMT)
Member of the Brazilian Council of Masters of Muaythai
Team Leader Evilazio Fight Team / Fighter Sport
Coordinator ISKA of South America (1994)
Regional Council of Physical Education – CREF 2392 / CE
MuayThai Grand Master – Khan 15 Sib Hah Gold (CBM)
MuayThai Master – Khan 14 Silver (CBMTT)
MuayThai Master – Khan 14 Silver (WTBF)
MMA Fight Instructor (COBRAM)
7th Dan in Kick Boxing (ISKA)
8th Dan in Kick Boxing (OMTRS)
5th Dan in full contact (AASAM)
Jiu Jitsu SAS Team Black Band (CBJJ)
Representative of Martial Arts Team Brazilian Jiu Jitsu
Currently, Grand Master Evilazio Feitoza is considered one of the most important names in Brazil and in the world when speaking in Muay Thai, Kickboxing and MMA, and is also one of the biggest names in ISKA (International Sport Kickboxing Association).
Talent discoverer
In his work as a coach he has already revealed to the world several high-performance athletes, among them Thiago "Pitbull" Alves, (currently UFC fighter), Paulo Guerreiro, Andrezinho Nogueira, Junior Killer and Antonio Samuray. Jorge Patino "Macaco", James Adler, Ricardo Freire, Gabriel Napão and Assuério Silva, among others.
With this vast experience in martial arts, the Grand Master accepted yet another challenge: he moved to the United States where he resides in New York (in Long Island, Suffolk County). In addition to tutoring, he also teaches at the academy of renowned athlete Matt Serra, a former UFC fighter and black Jiu-Jitsu belt Renzo Gracie.
Seminars and Lectures
Recently the Grand Master taught a series of graduations and lectures in the state of Ceará. This event was held by Fighter Sport with the support of the Ceará State of Muay Thai (FCMT) and was attended by the massive presence of martial arts lovers. A success of public and media!
"It is always a very interesting experience, I also receive a lot of learning, there is a huge exchange," says Evilazio.
Service:
Follow us through our channels:
Website http://www.fightersport.com.br/en/
Facebook https://www.facebook.com/evilaziofightteam/
Instagram https://www.instagram.com/evilaziofightteam/
YouTube https://www.youtube.com/user/evilaziofeitoza
Press office
Léo Capibaribe (85) – 98696.6738.