https://fortalezaetc.com.br/evilazio-feitoza-seminario-fortaleza/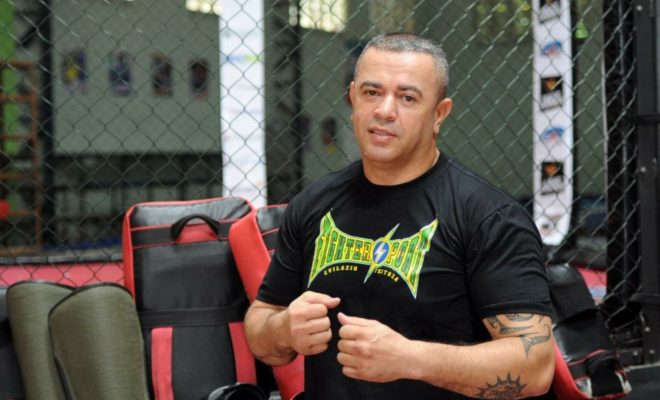 Fortaleza will host Fighter Sport between May 05 and 07, an event that will count with graduation exams and seminars with the presence of Grand Master Evilázio Feitoza.
Evilázio Feitoza
Grand Master Evilázio Feitoza is a forerunner of martial arts in Ceará, he is a world reference and holds one of the highest graduations of the sport boasting the 15th Khan (Grand Master) of Muay Thai, black belt 8th Dan Kickboxing, 5th Dan in Full Contact and as a competitor was 6 times Brazilian champion of Kickboxing (1983 to 1987).
Evilázio was born in the interior of Sobral and grew up in the Serra de Tianguá and will come direct from New York, in the United States, to a series of seminars in the state. At the opportunity, he will conduct graduation and training exams in Muay Thai and Kick Boxing for sports lovers.
The meeting will feature lectures along with a practical part to perfect the movements of the sport. According to the organization, the idea is that the enrollees can learn from the basic movements to the most advanced in the martial art.
"In the Seminar, we will do demonstrations of techniques of competition fights, performing basic and advanced training, as well as reviewing the most modern of the fighting world. Our invitation goes beyond the students, we extend to the supporters of the sport who can also accompany the event, "says Evilázio.
The event will be held by Fighter Sport with support from the Ceará State Federation of Muay Thai (FCMT). The event is scheduled for 5 (Maracanaú), 6 and 7 (Fortaleza), May 11 and 12 (Juazeiro do Norte).
PROGRAMMING:
Sábado – 05 de maio
Local: Galpão de Lutas / Rua: Jutaí Magalhães, 81 – Maracanaú/CE
Horários: 9h – Seminário / 14h – Exame de Graduação
Contato: Márcio Valente 85 9 8959.6288
Domingo – 06 de maio
Local: Academia CrossGym / Rua: Rep. do Líbano, 1415 – Varjota – Fortaleza/CE
Horário: 9h – Seminário Técnico
Contato: Adriano Rocha 85 9 9164.2281
Segunda – 07 de maio
Local: CT V8 / Av. Cel José Philomeno Gomes, 1148 – Luc. Cavalcante – Fortaleza/CE
Horário: 9h – Seminário Técnico
Contato: Fernando Moura 85 9 9994.9203