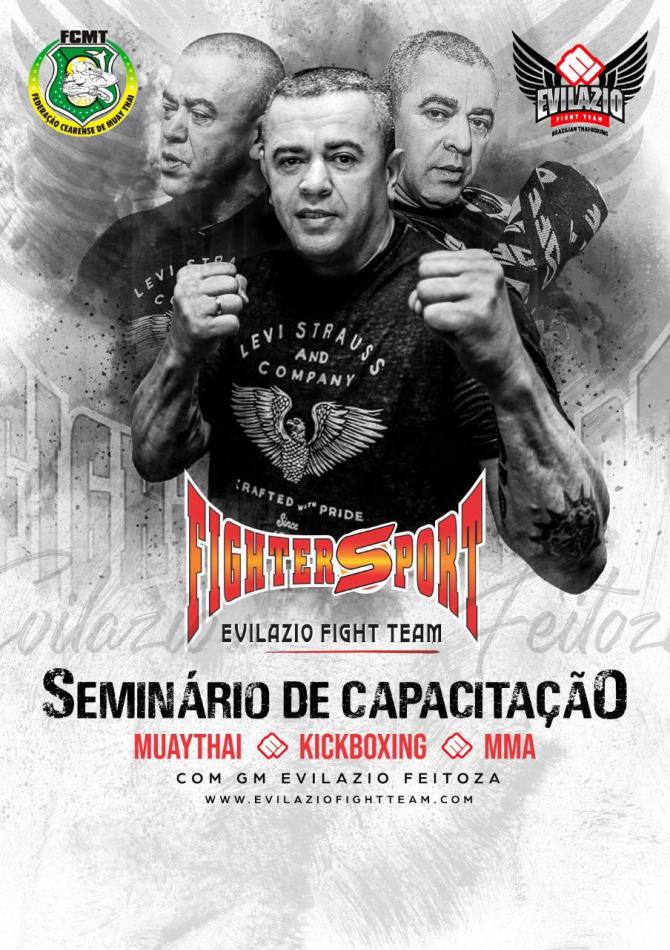 *ORIOSVALDO COSTA |  Born in the interior of Sobral and having lived his childhood in the Ceará mountain range of Tianguá, Evilázio Feitoza started his martial arts training with Shotokan Karate and then moved from Ceará to the state of São Paulo, where he started his practice of Kung-Do-Te (guerrilla tactics and self-defense), Full Contact (Kickboxing version) and Total Portuguese Contact with Portuguese Master Adriano Silva, Boxing with world champion Miguel de Oliveira and Jiu-Jítsu with legendary Marcelo Behring.
In addition to teaching in São Paulo, Evilázio built a cartel of 37 fights, with 35 wins and just two defeats. He was consecrated six times Brazilian champion (1983-1987) throughout his career as a competitor, after which he started his brilliant career as a promoter of fighting events.
Back in Ceará, he revealed fighters of the size of ex-UFC Thiago "Pitbull" Alves, Paulo 'Guerreiro', Andrezinho Nogueira, Antônio 'Samurai' and Júnior 'Killer', projecting them to the international scene, in addition to having already worked with high performance athletes, like Jorge Patino "Macaco", 'The Pedro', James Adler, Ricardo Freire, Gabriel Napão and Assuério Silva, among others.
Currently Evilázio boasts the 15th Khan rankings in Muay Thai (Grandmaster title and one of the highest rankings in that style), black belt 8th Dan in Kickboxing, 5th Dan in Full Contact and his name has already become a reference of success in the Brazil and other countries in South America, Europe, the Middle East and Asia, where he is always required for his credentials.
Evilázio is also teaching classes at gyms in the Hamptons, New York, USA, where he currently resides and has already consolidated his name as a trainer for major international stars of MuayThai and MMA.
The Grand Master has helped many athletes to become professional and it is with this objective that he will be returning to Brazil in November and December of this year for another series of seminars and graduations in Muay Thai / Kickboxing / MMA.
Taken as the precursor of martial arts in Ceará, Evilázio will have an agenda in Fortaleza (capital of the state) and in cities like Juazeiro do Norte, São Benedito, Maracanaú, and possibly Marília-SP and in São Paulo. "I am very excited for this meeting, the opportunity to meet students who have become friends! Our meeting started to be something much demanded by Muay Thai / Kickboxing / MMA practitioners in the state of Ceará. We are preparing top quality content that will be passed along with the practical part in order to improve the athletes' movements. Our gratitude to all the support of the Cearense Federation of Muay Thai at that moment, as it demonstrates our union and the concern to train great athletes and obviously, great citizens. Our expectations are the best possible. Our invitation goes beyond the students, we extend to the supporters of the sport the organization of the Cearense Muay Thai Federation (FCMT) ", commented Evilázio.
If you want to take Grandmaster Evilázio Feitoza's training seminar to your city you can get in touch through social networks, such as Instagram: @evilaziofightteam e WhatsApp : +1631 816 3633.