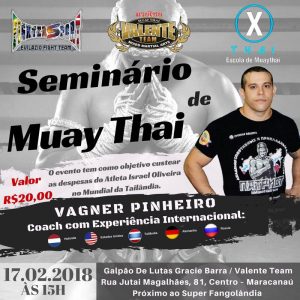 On February 17, Saturday, at 3:00 p.m. There will be a Muay Thai Seminar, taught by Coach Vagner Pinheiro. Former  student GM Evilazio Feitoza, Vagner Pinheiro has extensive international experience in martial arts. It has already passed through several countries, such as Russia, Thailand, Holland, Germany and USA.
The investment will be only R$ 20.00 and will serve as a way to defray the expenses of the athlete Israel Oliveira in the World of Thailand.
The event has the support of Fighter Sport and GM Evilazio Feitoza and will take place at the Gracie Barra / Valente Team Galpão de Lutas, Jutai Magalhães Street, 81 – Center of Maracanaú / CE. Close to Super Frangolandia.
Get Involved!