GM Evilazio Feitoza will come from New York for seminars in Ceará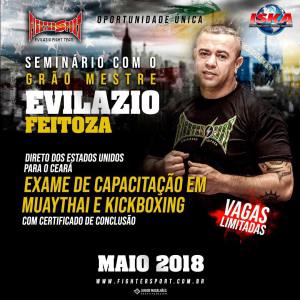 Born in Aprazível, Sobral District, 230 km from Fortaleza, Evilázio Feitoza also lived part of his childhood in the mountain range of Tianguá. It was at this time that he began his martial arts training by practicing Shotokan Karate.
In his adolescence, Evilázio moved from Ceará to the state of São Paulo, where he began his practice of Kung-Do-Te, Full Contact (Kickboxing version) and Total Portuguese Contact with the Portuguese master residing in Brazil Adriano Silva.
Later, he also perfected his techniques with the renowned world boxing champion, Miguel de Oliveira.
Today, Grand Master Evilázio Feitoza is considered one of the most important names in the state of Ceará and also in all of Brazil when it comes to Muay Thai, Kickboxing and MMA.
His fame has also reached the other countries of South America, as well as in Europe, the Middle East and Asia, where he is always asked for his credentials. His name has already become a benchmark of success among martial artists and contact sports in general.
As competitor Evilázio maintain an impressive resume: Six times Brazilian champion (1983-1987) and his cartel has a record of 37 fights, being 35 wins. He is already more than 40 years involved in martial arts and contact sports.
Currently sporting the graduations of 15º Khan (Grand Master) of Muay Thai, black belt 8º Dan of Kickboxing and 5º Dan in Full Contact and Total Contact Portuguese, Feitoza also has already consolidated like a competent trainer.
In his journey as coach he has already revealed to the world several high-performance athletes, among them Thiago "Pitbull" Alves, (currently UFC fighter), Paulo Guerreiro and Andrezinho Nogueira, besides already working with names of Jorge Patino "Macaco", "The Pedro", James Adler, Ricardo Freire, Gabriel Napão and Assuério Silva, among others.
Currently he moved to the US and is living in New York (Long Island, Suffolk County,). In addition to tutoring, he also teaches at the academy of renowned athlete Matt Serra, a former UFC fighter and black Jiu-Jitsu belt by Renzo Gracie.
His intention is to reveal new talents for the sport he loves so much, also in the USA, but even so, he still maintains representatives in Brazil, distributed in the states of Ceará (in Fortaleza and in the region of Cariri), Paraíba and São Paulo.
Therefore, Grand Master Evilázio Feitoza, who is one of the biggest names in ISKA (International Sport Kickboxing Association), will be coming from New York, USA, to Brazil, where he will teach a series of seminars in the state of Ceará . In the opportunity he will take undergraduate and training exams in Muay Thai and Kick Boxing.
We are announcing the programming of Grand Master Evilázio Feitoza for those interested. Take advantage of the opportunity as the vacancies are limited:
PROGRAMAÇÃO:
Sábado – 05 de maio
Local:
Galpão de Lutas de Maracanaú
Rua: Jutaí Magalhães, 81 – Próximo ao Frangolândia. – Maracanaú/CE
Horários:
9h – Seminário
14h – Exame de Graduação
_____________________________
Domingo – 06 de maio
Local:
Academia CrossGym
Rua: República do Líbano, 1415 – Varjota – Fortaleza/CE
Horário:
9h – Seminário Técnico
_____________________________
Segunda – 07 de maio
Local:
CT V8
Av. Coronel José Philomeno Gomes, 1148 – Luciano Cavalcante – Fortaleza/CE
Horário:
9h – Seminário Técnico
_____________________________
Sexta – 11 de maio
Local:
SESC de Juazeiro do Norte
R. da Matriz, 227 – Centro – Juazeiro do Norte/CE
Horário:
9h – Seminário Técnico
_____________________________
Sábado – 12 de maio
Local:
SESC de Juazeiro do Norte
R. da Matriz, 227 – Centro – Juazeiro do Norte/CE
Horário:
15h – Exame de Graduação
*Source / Collaborator Oriosvaldo Costa
Credits: ZONA ESPORTE